SA to Deploy Full Army onto Streets?
And the Parliamentary Leader of the Opposition has been reported to the Speaker for letting the public know.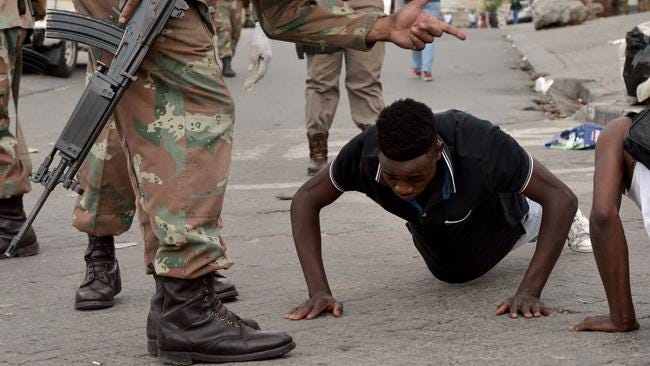 This is my basic summary of the situation in South Africa so far.
South Africa has 3465 confirmed cases of the Coronavirus. Less than 40 are in serious condition. This in a country where more than 300 people on average die daily from crime, car accidents, and Aids.
We have had 58 deaths but even the Health Minister has admitted there could be counting errors. He said this in a speech a few days ago:
"The majority of the deceased patients have been elderly people and individuals who had co-morbidities. This is consistent with the trends that we have seen worldwide. We therefore urge these vulnerable groups to adhere to their treatment regimens and maximise on staying at home."
Tests have been conducted on 121 510 patients, and we have had 1055 recoveries.
This has been our response. Complete lockdown - no alcohol or tobacco purchases. You cannot even buy a cooked chicken or a pie from a grocery store.
Our police has killed and brutalized families. At least 8 have died, and there have been over 200 reports of assault. Thousands of citizens have been arrested.
People are torching police cars in response to police murders:
You are meant to carry a pass for 'exceptional' cases of travel, along with your ID document:
A top police official leaked to the press that the Minister of Police, Bheki Cele, has "lost the plot."
In my province of KwaZulu-Natal, the health authorities have now said that positive cases will not be allowed to self-isolate but will be quarantined in state-run facilities.
And now, to top it all off, the entire army has been deployed to the South African streets. All 75 000 or so of them, at a cost of close to R5 billion. I cannot begin to fathom why it would cost so much.
Our official unemployment rate was 30% last quarter. Youth unemployment was around 60%. What happens next in a violent and unequal society, in which corruption runs rampant and billions are stolen everyday?
Before the lockdown, we experienced rolling black-outs as our national power supplier fails in the midst of being R450 billion in debt owing to corruption and mismanagement.
The President has announced a R500 billion stimulus package (a third of the annual budget). And R350 per month for the unemployed. The poverty line is R561 - which is the minimum required for monthly intake of energy through food. People are looting grocery trucks and stores as they complain about being forced into starvation.
The President also said the economy will be altered towards 'radical economic transformation' - a term used in South Africa to mean nationalisation of the economy and especially the health sector.
In short, we are ground zero of the Great Coronavirus Depression.